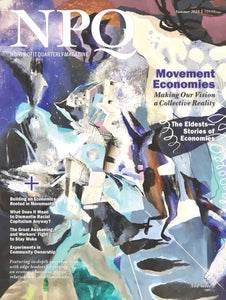 Summer 2023 - Digital Issue
If you're a member or have purchased this Digital Issue in the past,
Log in
to access it.
Regular price
$19.95
$0.00
Unit price
per
Movement Economies Making Our Vision a Collective Reality
Summer 2023: Volume 30, Issue 2
Click here to subscribe to a magazine subscription.
or
Print version of the Summer 2023 issue.
---
Welcome

Movement Economies: Building an Economics Rooted in Movement

"How do social movements come to make the language of economic systems change their own? Building a more just and democratic economic system requires that people understand the problems of the current economic structure, propose democratic alternatives, and organize to make those ideas a reality."

by Steve Dubb and Rithika Ramamurthy


"Educational Purposes": Nonprofit Land as a Vital Site of Struggle

"In today's higher-education landscape, classrooms filled with professors and students have become a minor side business on the increasingly profitable college campus. The greater value of campus land is in its nonprofit tax-exempt status, which serves as a financial shelter for profitable research and private investors. The meteoric rise of the knowledge economy positions schools as financial titans in our big cities and small towns, and the financial arrangements produced by the tax-exemption of nonprofit land is central to their wealth hoarding."


by Davarian L. Baldwin


What Does It Mean to Dismantle Racial Capitalism Anyway?

"As Georgetown philosopher Olúfé. mi O. Táíwò smartly put it, the broader strategic issue is that 'If it is true that racism and capitalism are in a mutually supporting relationship, then we should expect that any potentially effective anti-racist and anti-capitalist struggles will also be mutually supporting.' This means we must focus our aim not just on structural racism and not just on capitalism, but rather on how those two forces are interconnected and intertwined."

by Saqib Bhatti and Bree Carlson

Building Movement-Accountable Government: A Conversation with Steve Dubb, Rithika Ramamurthy, and Maurice Mitchell

"Imagine a world with vibrant, nonextractive, nonexploitative economies that were explicitly political, saw themselves as the economic reflection of people's organizations, and made significant investments in organizations that helped create their conditions. I get excited thinking about that."

The Great Awakening, and Workers' Fight to Stay Woke

"It's time to admit it. We were asleep. Many of us who are privileged enough to be paid to work for justice had all but given up on winning unions at multinational brands in the near term. Then, somewhere in the last two years, there was a 'great awakening,' and the entire landscape
for what is possible changed overnight."


by Erica Smiley

Building a Green, Equitable Economy: A Conversation with Steve Dubb, Rithika Ramamurthy, Johanna Bozuwa, and Daniel Aldana Cohen

"In my research on climate policy and climate politics, I've found that the most effective climate policy is equitable climate policy. You can't build  a base to transform the economy with just a few renewable energy companies, some very smart people working in policy schools, and some well- meaning politicians.         If you're going to make major, disruptive change, you have to bring a large number of people along with you. And to do that, you have to show them the economic benefits."

Unlikely Advocates: Worker Co-ops, Grassroots Organizing, and Public Policy


"When time and resources are limited and the priority is—as it must be—the needs in our communities, among our members, and among our people, it can be tempting to neglect the advocacy apparatus needed to move even realistically winnable initiatives. Through the lessons of our advocacy for the Main Street Employee Ownership Act, and since then, we've drawn lessons on how to be effective advocates."

by Esteban Kelly and Mo Manklang

Stories of Organizational Transformation: Moving toward System Change and a Solidarity Economy

"The Center for Biological Diversity, Marbleseed, and Wellspring Cooperative provide three examples, from the environmental, agricultural, and worker
co-op sectors, of organizations that have shifted over the past few years from single-issue and/or reformist work within the context of capitalism, to embracing a post-capitalist framework of the solidarity economy."


by Emily Kawano, Lori Stern, Adoma Addo, and Kelley Dennings

Building the Mutual Economy: A Conversation with Steve Dubb, Rithika Ramamurthy, and Manuel Pastor

"We should ask ourselves why—in a country that is so upset about income inequality, in which there is so much dissatisfaction with racial inequality, in which there's so much generational anger about the climate disaster—why can't we do more?"

Experiments in Community Ownership: Taking Charge of Commercial Real Estate

"In communities all over the country, commercial corridors are lined with small mom-and-pop establishments that provide communities with food and services but also hire locally and act as ambassadors for culture. Long-time small business owners are often the unofficial historians of a community, helping
to make a neighborhood truly a neighborhood. Despite the American romance with such entrepreneurism, however, many small business owners in communities like ours are simply trying to make ends meet."


by Rudy Espinoza

The Eldests—Stories of Economies


"We all begin with a story. It is through story that we are connected, not only to each other, but also to our homes, to our lands, to our communities, to our people, to our past, and to our future grandchildren. It is the collection of stories that we are able to hear and witness that will make the whole of our lives and define the shape and character of our community, but also, through the stories, we share and tell and retell what will shape the whole of our future."

by A-dae Romero-Briones

Public Dollars for Public Good

"What do community organizing calls for police abolition and recent federal public investments like the American Rescue Plan Act (more popularly known as ARPA) have in common? On their face, they might be seen as wildly different approaches to safety, well-being, and economic security in the United States.
In reality, they are two sides of the same coin: both involve the use of state power."

by Carmen Rojas

Economic Justice: Nonprofit Leaders Speak Out

"In this issue on movement economies, we invited seven field leaders to answer the above question and consider how nonprofit practice might better align with stated economic justice goals. . . . In their contributions, the authors grapple with how best to face the challenges inherent in the struggle for economic and racial justice."


by Akilah Watkins, Nelson I. Colón, Jon Pratt, Marla Bilonick, Clara Miller, Seema Agnani, and Gary L. Cunningham


ENDPAPER - A Flower Opened in the Tail
---