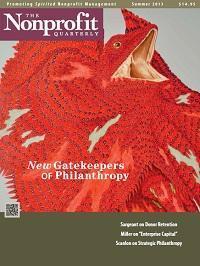 Summer 2013 – Digital Issue
If you're a member or have purchased this Digital Issue in the past,
Log in
to access it.
Regular price
$19.95
$0.00
Unit price
per
New Gatekeepers of Philanthropy
Summer 2013: Volume 20, Issue 2
---
Features
Welcome


The Nonprofit Ethicist
A board member applies for an ED position; a congregation member wants to do management consulting with his own church; and our continuing struggles with donations of junk food. The Nonprofit Ethicist weighs in. by Woods Bowman


Philanthropy—Not Even the Same Stream Once
Post-recession giving is coming back, but slowly—and it looks very different. by Ruth McCambridge


Donor Retention: What Do We Know and What Can We Do about It? Despite the obvious benefits of donor retention, research continues to focus on motives for giving. by Adrian Sargeant, PhD


Notes on the Limitations of Strategic Philanthropy
What could be wrong with a foundation engaging in strategic philanthropy? Thomas Scanlon has some searing observations. by Thomas Scanlon
---
Special Section
Getting Serious about Philanthropic Capital


Capital, Equity, and Looking at Nonprofits as Enterprises
Clara Miller discusses the role of a healthy capital investment in helping an organization to optimize its impact. by Clara Miller


Edna McConnell Clark Foundation's Growth Capital Aggregation Pilot: A Bold Philanthropic Innovation
In 2007, EMCF launched GCAP, a pilot project focusing on just three, "big bet" grantees. The goal? To help them expand their impact, improve their evaluation methodologies, and reach their "sweet spot." by the editors


An Interview with Nancy Roob, President of the Edna McConnell Clark Foundation
In the 1990s, EMCF decided to narrow its focus to just one field, in order to have greater impact. But when grantees were still struggling to raise revenue, EMCF launched its Growth Capital Aggregation Pilot. Nancy Roob describes what it took to shift the foundation's approach to grantmaking. by the editors.


Second-Stage Growth: How Major Grants Transformed Our Institutions
This article presents an autobiographical case study of two promising organizations that received capital investments to grow and change. by Rabbi Elie Kaunfer and Steven Lieberman, JD
---
Features continued . . .
Making Charitable Money Flow: Mixed Results with Donor-Advised Funds
The charitable gift funds like Fidelity and Schwab are growing their pools of DAFs at a remarkable pace. This article is a rundown of the landscape. by Rick Cohen


Collaborating with Advisors to the "Self-Made": A Fundraiser's Next Frontier
Financial advisors are a great doorway for approaching self-made businesspeople for gifts. But what kind of message are you leading with? by Phil Cubeta, CLU, ChFC, MSFS, CAP


Naomi Levine: Insights from a Master of Fundraising
Naomi Levine, fundraiser for New York University and president of its George H. Heyman, Jr. Center for Philanthropy and Fundraising, talks about the principles that guide her approach to fundraising. Interview by Ruth McCambridge


Toward a Successful Internet-Enabled Philanthropy Ecosystem: Part 1
The founder of GuideStar takes an updated look at the ecosystem that informs philanthropy. What needs work? by Buzz Schmidt


Dr. Conflict 
Got a problem with your personnel committee getting too personal? Dr. Conflict issues a surprising prescription. by Mark Light, MBA, PhD
---