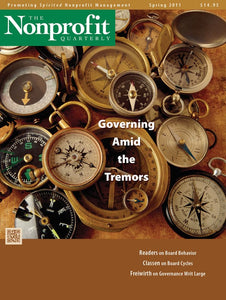 Spring 2011 – Digital Issue
If you're a member or have purchased this Digital Issue in the past,
Log in
to access it.
Regular price
$19.95
$0.00
Unit price
per
Governing Amid the Tremors
Spring 2011: Volume 18, Issue 1
---
Features
Welcome


The Nonprofit Ethicist
A board member of two "competing" organizations has become privy to the disconcerting fact that one has takeover designs on the other. by Woods Bowman


New Boards for a New World
Have you been noticing any changes in your organization's board? NPQ readers describe what they are experiencing as boards respond to the still roiling environment. by Ruth McCambridge


Beyond Financial Oversight: Expanding the Board's Role in the Pursuit of Sustainability
Financial oversight by boards is "nice but insufficient." What is needed is a higher order of governance that addresses the design of the organization and its fit with the environment, and all toward a higher level of impact and sustainability. by Jeanne Bell, MNA


Here We Go Again: The Cyclical Nature of Board Behavior
If nonprofit board behavior seems to go in circles, it's probably because boards really do cycle from attentiveness to inattentiveness. Julia Classen revisits a framework, introduced almost twenty years ago by Miriam Wood, that describes the three recurring phases all nonprofit boards go through after their founding period, reminding us that crises are a necessary part of healthy board development. by Julia Classen


Adding a Few More Pieces to the Puzzle: Exploring the Practical Implications of Recent Research on Boards
What is it that enables boards to be strong and effective? And why are we still using outdated models in an effort to improve board performance? David Renz gives us an overview of some of the best research on nonprofit boards and governance today. by David O. Renz, PhD


Governance under Fire: A Dustup in Fresno
A very public furor ensues when a nonprofit organization awards its employees a year-end bonus. by the editors


The Inclusive Nonprofit Boardroom: Leveraging the Transformative Potential of Diversity
Diversity on boards has to be good, right? So how is it that study after study suggests the opposite? A closer look at boards today reveals that exactly how we diversify makes all the difference. by Patricia Bradshaw, PhD, and Christopher Fredette, PhD


Community-Engagement Governance™: Systems-Wide Governance in Action
Does governance only reside in the board? Most of us know that it is more widely held than that, but few really design their governance systems to make full use of the intelligence and energies of their stakeholders. This article provides guidance and examples. by Judy Freiwirth, PsyD
---
Departments
Dr. Conflict
Tempers fray when a former boss and her employee become coleaders. by Mark Light


Tweet Freely: Your Social Media Policy and You
A Red Cross employee is horrified when she mistakenly tweets a personal message from her employer's account. by Aaron Lester


The Nonprofit Difference
We know that for-profits and nonprofits are both businesses, so what really is it that differentiates them? by Woods Bowman


An Interview with Michael O'Neill
A pioneer in the establishment of nonprofit management weighs in on the current state of the field. by Jeanne Bell, MNA


Truth or Consequences: The Organizational Importance of Honesty
Originally published in the summer 2004 issue of NPQ, this article looks at how the little lies we tell in order to take shortcuts or avoid unpleasantness may be more harmful than we think. by Erline Belton


The Take-Away
A summary of the articles in this issue.
---