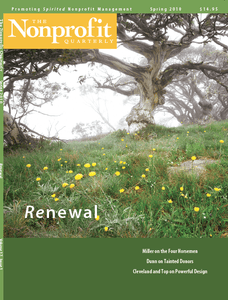 Spring 2010 – Digital Issue
If you're a member or have purchased this Digital Issue in the past,
Log in
to access it.
Regular price
$19.95
$0.00
Unit price
per
Renewal
Spring 2010: Volume 17, Issue 1
---
Features
Welcome


The Nonprofit Ethicist
An employee questions her organization's fuzzy math. by Woods Bowman


When a Donor Becomes Tainted
When a donor becomes embroiled in scandal, how should a nonprofit respond? by Paul Dunn, Ph.D.


Visual Rhetoric: The Powerful Design of Nonprofit Campaigns— An Interview with Peleg Top and Jonathan Cleveland
How can powerful marketing strengthen an organization's impact? by the editors


The Four Horsemen of the Nonprofit Financial Apocalypse
What "preexisting conditions" may have weakened your organization going into the recession, and what to do about it now? by Clara Miller


The Problem of Solo Civic Engagement: An Interview with Doug McAdam
Does Teach for America produce more civic engagement from its graduates? by Cynthia Gibson, Ph.D.


The State of the States
The states are still neck deep in economic crisis, and the federal stimulus money will soon run out. by Rick Cohen


The Way We Write Is All Wrong: Fixing the Broken Discourse of Fundraising
Fundraising tactics suffer from a serious disconnect between theory and practice. by Frank C. Dickerson, Ph.D.
---
Special Supplement
NPQ's 2010 National Nonprofit Management Education Directory
---
Departments
Dr. Conflict
Dr. Conflict guides an employee on a major human-resources mess. by Mark Light


Nonprofits and Metaphors: Using Language to Create Better Outcomes
Our use of certain metaphors to understand the financial crisis may doom already-weak nonprofits. by Scott Anderson
Satire
Fifteen Questions to Certify That You Are a Social Innovator
How high do you rank as a social innovator? Take this fun quiz to find out. by Phil Anthrop
---