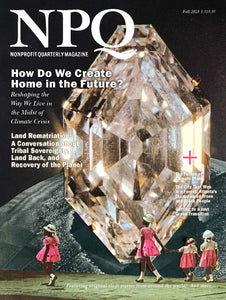 Fall 2023 - Digital Issue
If you're a member or have purchased this Digital Issue in the past,
Log in
to access it.
Regular price
$19.95
$0.00
Unit price
per
How Do We Create Home in the Future? Reshaping the Way We Live in the Midst of Climate Crisis
Fall 2023: Volume 30, Issue 3
Click here to subscribe to a magazine subscription.
or
Print version of the Fall 2023 issue.
---
Welcome

Ancestor in the Making: A Future Where Philanthropy's Legacy Is Stopping the Bad and Building the New

"When I imagine the world anew, I think about what kind of ancestor I will be to my future grandchildren."

by Dana Kawaoka-Chen


Kawsarina

by Laura Seldner


To My Gaea, a Letter You Will Never Read

by E. E. King

Land Rematriation: A Conversation with Cyndi Suarez, Donald Soctomah, Darren Ranco, Mali Obomsawin, Gabriela Alcalde, and Kate Dempsey

"The next shift is, clearly, Indigenous peoples' knowledge and participation and leadership. All these things are at the forefront of what we know to be good in terms of caretaking our planet."

Belonging

by Atheeva Reji Kumar

Sanctuary

by Hunter Liguore


California Environmental Justice Organizers Are Writing the Future of Climate Plans


"The Principles of Environmental Justice call on us who have survived hundreds of years of colonization to raise our leadership and develop solutions in the long arc of our liberation."

by Mari Rose Taruc

For Moses

by Peter Wallace

Forecast

by Vanessa Hua


How the America the Beautiful Initiative, the Inflation Reduction Act, and Philanthropy Are Effecting a Just Transition in Native American and Alaska
Native Communities

"It only makes sense that Tribes lead this transition away from extractive and exploitative fossil-fueled economies and toward a clean energy future."


by Chéri Smith

Elder Tek

by Christopher R. Muscato

The Gifted Children

by Chris Haynes

How the City of Boston Is Investing in the Future of Its Youth and Home

"As we continue to find climate solutions, an important one often gets overlooked: investment in youth and young adults."

by Iris M. Crawford

'Til the Rivers Come Home

by Dera Udochukwu

A Onda Antiga

by Andrea Vale

On Fiction and Environmental Advocacy: A Conversation with Alison Stine and Jeff VanderMeer

"Many of VanderMeer's books, including Hummingbird Salamander...are concerned with the planet: the changing climate, the erosion of natural habitats, the survival of animals—and humankind's part in the destruction."

Early Coralroot, Corallorhiza trifida

by Alison Stine

The Quagga Man of Marsh Lake

by Cole Nelson

The City That Was in a Forest— Atlanta's Disappeared Trees and Black People: A Conversation with Hugh "H. D. Hunter"

"Atlanta natives and residents have long been fighting to protect themselves and the land from oppressive forces throughout—and long before the #StopCopCity movement."

by Julian Rose

Adobo Sky

by Caroline Hung

The Crown Has Come Home

by Gunnar De Winter

Movements Are Leading the Way: Reenvisioning and Redesigning Laws and Governance for a Just Energy Utility Transition

"Energy and utility justice movements aren't just imagining versions of this future but also are actively working to build them."

by Maria Stamas

A Line in the Fading Paint

by Ron Fein

This Is Not the End of the World (but You Can See It from Here)

by Ellis Bray
---