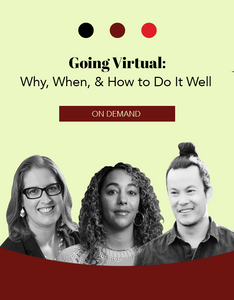 Going Virtual: Why, When, & How to Do It Well
If you're a member or have purchased this Webinar in the past,
Log in
to access it.
Regular price
$69.00
$0.00
Unit price
per
Please note: The purchase is for 12 months access.
Previously Live: Recorded version available for viewing
Click here for answers on Frequently Asked Questions.
Going Virtual: Why, When, & How to Do It Well
While COVID-19 certainly accelerated the virtual organization trend, there are very good reasons beyond the pandemic for nonprofit organizations to consider it. People are moving to virtual---whether full or quasi--for cost savings, for enhanced staff recruitment and retention, and to embody their commitment to employee wellness, among other reasons.
In this session, we'll learn from leaders of a diverse group of virtual organizations. Among the questions we'll explore:
Why are leaders going virtual?
What technologies and practices make it work for them?
How do they build and sustain staff culture?
How do they address issues of equity and inclusion?
This session is ideal for:
senior staff and executives considering going virtual or quasi-virtual
senior staff and executives who have recently made the transition and are seeking better practices
consultants and capacity builders who support making the transition to virtual
funders of organizations making the transition to virtual
Presenters:
Sutro Li Accounting
USENIX
---