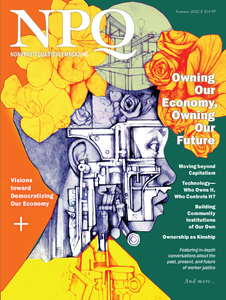 Summer 2022 - Digital Issue
If you're a member or have purchased this Digital Issue in the past,
Log in
to access it.
Regular price
$19.95
$0.00
Unit price
per
Owning Our Economy, Owning Our Future
Summer 2022: Volume 29, Issue 2
Click here to subscribe to a magazine subscription.
or
Print version of the Summer 2022 issue.
---
Welcome

Beyond Capitalism: Owning Our Economy, Owning Our Future


"In the world of work in the United States, there is talk of a Great Resignation; but this can also be thought of in other ways—as a great awakening, a great rebellion, a great recalibration. Beyond the workplace, communities are designing entirely new ecosystems of institutions—reclaiming ownership of their identities, cultures, land, and businesses."

by Steve Dubb and Emily Kawano

Owning Our Labor: Productivity, Profits, and Power


"In what has come to be called 'The Great Resignation,' almost 47 million American workers quit their jobs in 2021. Whether workers are fed up with low wages, despotic management, or limited flexibility, their mass quits suggest that work as we know it is in desperate need of transformation."


by Rithika Ramamurthy

Reclaiming Worker Control—New Forms of Ownership


"It will require multiple strategies for workers to (re)claim ownership over the labor process. Union co-ops . . . are still uncommon, but they offer a window into how different approaches—unions, cooperatives, worker centers, and mutualist organizations—might complement each other."


by Steve Dubb

The State of the Care Economy: Community Leaders Weigh In

"The essential work of cooking and delivering food, caring for children and the elderly, and cleaning homes and offices is both necessary for our lives and not paid a living wage. This labor, done mostly by women of color, is often made invisible: performed quietly and cheaply by those at the margins of society, who work hard without good pay or protections."


by Ai-jen Poo, Adria Powell, Dennis Hogan, Dulari Tahbildar, and Ellen Vera

The Transformative Power of Worker Ownership

"Movement builders are developing worker cooperatives as living examples of what a reimagined economy based in mutual care can look like. For several reasons, worker cooperatives are the primary form of worker ownership associated with the solidarity economy."


by Camille Kerr

Future Horizons: Visions toward Democratizing Our Economy

"In the midst and continuing effects of the still- raging COVID-19 pandemic and ongoing and ever- deepening racial, economic, and climate injustice, things that recently seemed like far-fetched alternatives now appear as the only path for resilience under unprecedented pressures."

by Esteban Kelly and Melissa Hoover

Technology for Whom? Owning Our Platforms


"Technology is a social product and can have benefits across society, but the core questions must always be: Who owns and controls the technology, and how will the average worker respond to it?"

by Minsun Ji

The Future of Workers in the Gig Economy and Beyond: A Conversation with Steve Dubb, Rithika Ramamurthy, and Sarita Gupta


"We're seeing an historic act of refusal by workers right now, who will no longer accept the below- standard wages and protections they've been forced to accept for decades. Reporters and the media are calling this moment 'The Great Resignation'; but in reality, millions of workers feel that America quit on them a long time ago."


The Rise of the Gig Economy

"The gig economy is widely touted as the latest great phase of modern work But this trend is actually just a collection of familiar exploitative business practices repackaged as a positive twenty-first-century development."


by Erica Smiley and Sarita Gupta

Building Community Institutions of Our Own

"For BIPOC-led and -predominant nonprofits to truly catalyze community wealth, we must prioritize building economic power, creating alternative business and revenue models, and establishing economic reciprocity and mutual benefit with our stakeholders and partners. Otherwise, we will contribute to perpetuating the charitable-industrial complex."

by Rodney Foxworth

Reclaiming Our History of Mutualism: A Conversation with Steve Dubb, Rithika Ramamurthy, and Sara Horowitz

"Areas that have more mutualism in them also have much healthier economic development systems in place. It turns out that if you are a
hub for a cooperative, people are already engaged, and because they're human beings, they're already starting to look at the other issues around them."


The Mutualist Ethic: Planting the Saplings for the Tree of Mutualism

"A healthy mutualist organization must try to plan for at least two generations in the future. How? The organization can't rely on the leadership of a single charismatic, intelligent, or innovative founder. It must, instead, create a self-reliant institution that is bigger than any one person."


by Sara Horowitz

Ownership as Kinship: Restoring the Abundance of Our Ancestors

"This article explores kinship from a Native Hawaiian perspective as a binding construct of 'ownership.' Kinship with place—and the integrity of the ecologies, wisdom, and people our places hold—stands as a central tenet of ownership often lost in our contemporary nomenclature born of capitalism."


by Kamuela Enos and Miwa Tamanaha

ENDPAPER
Nubian Empress
---