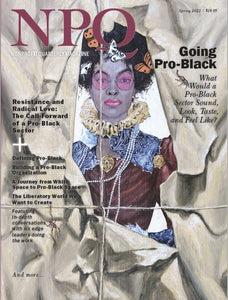 Spring 2022 - Digital Issue
If you're a member or have purchased this Digital Issue in the past,
Log in
to access it.
Regular price
$19.95
$0.00
Unit price
per
Going Pro-Black: What Would a Pro-Black, Sector Sound, Look, Taste, and Feel Like?
Spring 2022: Volume 29, Issue 1
Click here to subscribe to a magazine subscription.
or
If you would like the Print copy of this issue, please click here.
---
Welcome

Defining Pro-Black


"What does pro-Black mean? What are the characteristics of a pro-Black organization? What would a pro-Black sector sound, look, taste, and feel like?" This article looks at the fieldwide shift from critiquing white supremacist culture and calling out anti-Blackness to designing for pro-Blackness."

by Cyndi Suarez

Resistance and Radical Love: The Call-Forward of a Pro-Black Sector


"Those who wield power can choose to hear the challenge being issued as a call-out or as a call-forward. What is inarguable is that the sector's next iteration is already taking shape."


by Dax-Devlon Ross

When Blackness Is Centered, Everybody Wins: A Conversation with Cyndi Suarez and Dax-Devlon Ross


"I think pro-Black creates the space for that which needs to evolve to evolve.... And what we know has challenged [the fixedness of white-dominated
structures] and has presented different pathways for something other than
that, has lived, at least in the American context, in the bodies and movements of Black folks."

What It Looks Like to Build a Pro-Black Organization

"We started with the premise that to catalyze change in an organization, it's important to have multiple people pushing from within. We aimed to build community, explore equitable structures, ground in a pro-Black political stance, and build agency, all while stepping into our power. We used principles of popular education to create learning experiences that uphold self-determination, democratize participation, and engage everyone as both a teacher and a learner—all fundamental components to building pro-Black power."

by Liz Derias and Kad Smith

Moving the Mountain: A Conversation about Pro-Blackness with Cyndi Suarez, Liz Derias, and Kad Smith


"Our staff at that time were really moved by all the work that had been happening with Black liberation forces on the ground and all the continued responses to police violence and subsequent organizing. And they saw that as an opportunity to organize CompassPoint and not just be a center for nonprofits.... It was time for a pivot—it was time to respond to our community and build alongside our community as a movement-building institution."

A Journey from White Space to Pro-Black Space


"The goal . . . has been to shift from a white-dominant and patriarchal culture to one where more people of color, especially women, have access to decision-making rights and influence over the continued evolution of both what we work on and how we work collectively. It's about considering every day how to design an organization for liberation and not oppression."


by Isabelle Moses

Pro-Black Is Pro-Everybody: A Conversation with Cyndi Suarez and Isabelle Moses


"I think we need to understand pro-Blackness as a way of saying pro- everybody—and by that I don't mean the equivalent of 'all lives matter'! What I do mean is that if you're pro-Black, you are actually pro-everybody, because you can't be pro-everybody if you're not pro-Black."


What If We Owned It?

"Leaders in the Black food co-op movement have been speaking to the different manifestations of intergenerational trauma that are undermining
Black communities. These leaders understand that healing in communities is not just about economic opportunities and access to nutritious food but also about providing a sense of safety and dignity to the shopper and worker."


by Darnell Adams

Measuring Is an Act of Power: A Call for Pro-Black Measurement and Evaluation


"The events of the past two years have more than laid bare the fact that we know too much now to keep operating in the same ways, and awakened calls for pro-Black systems change in how we define and measure success and impact."


by Titilola Harley, Angela N. Romans, and Candace Stanciel


Pro-Blackness Is Aspirational: A Conversation with Cyndi Suarez and Shanelle Matthews


"There is no pinnacle of pro-Blackness.... Every single day, there are new ideas we have to contend with—and that means constantly evolving our strategies, our thinking, and our behaviors to be commensurate with those new ideas."
The Liberatory World We Want to Create: Loving Accountability and the Limitations of Cancel Culture


"As James Baldwin reminds us, 'History is not the past, it is present. We carry our history with us. We are our history.' So the question becomes, What do we carry and how do we carry it?"


by Aja Couchois Duncan and Kad Smith

ENDPAPER Honoring bell hooks
---