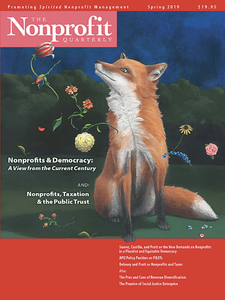 Spring 2019 – Digital Issue
If you're a member or have purchased this Digital Issue in the past,
Log in
to access it.
Regular price
$19.95
$0.00
Unit price
per
Nonprofits & Democracy: A View from the Current Century And Nonprofits, Taxation, & the Public Trust
Spring 2019: Volume 26, Issue 1

---
Introduction

Welcome


The Nonprofit Whisperer
Is a nonprofit merger ever a good idea? What are the potential challenges and rewards, and how should one plan for such an undertaking? The Nonprofit Whisperer surfaces the essential questions someone contemplating a merger should consider, and outlines key steps toward making a wise and informed decision.
---
Features
The Nonprofit Whisperer
Is a nonprofit merger ever a good idea? What are the potential challenges and rewards, and how should one plan for such an undertaking? The Nonprofit Whisperer surfaces the essential questions someone contemplating a merger should consider, and outlines key steps toward making a wise and informed decision.


Nonprofits and Democracy: A View from the Current Century
A Cult of Democracy—Toward a Pluralistic Politics
How should we view and respond to concerns about the devolution of democracy and resurgence of racism and xenophobia currently manifesting in the U.S. and globally? "There is a sense that things are breaking down," writes Cyndi Suarez, "and the world no longer makes sense." But, she explains, what we are in fact experiencing are the death throes of the dominant narratives undergirding these systems—and this article offers five points toward constructing new ones. by Cyndi Suarez


A New Theory of U.S. Nonprofits in a Democracy Gone Awry
Does nonprofit theory matter when there is so much work needing to be done on the ground? In this article, Elizabeth Castillo focuses on three crucial reasons why nonprofit theory is a critical component to interrogating and addressing dynamics that do not serve—or that even inhibit— a truly democratic sector. by Elizabeth A. Castillo


Nonprofits as Agents of Tension and Democracy
"Nonprofit organizations are frequently lauded as essential contributors to a functioning democracy, but what does that actually mean?" asks Jon Pratt. This article gives an overview of the dissonance between the historical and current democratic ideal of nonprofits and the lived reality. by Jon Pratt


The Multidimensional Landscape of Nonprofits and Taxes


The True Story of Nonprofits and Taxes
Nonprofits are widely misunderstood to be a tax-free sector of the economy—a misunderstanding predicated on nonprofits' tax-exempt status. In fact, nonprofits operate on "both sides of the ledger," as this article explains, paying out billions in taxes, in tax withholdings for others, and in fees. So why do proposals to tax the sector keep popping up, and how should the sector respond? by Jon Pratt


On Nonprofits, Taxation, and the Public Trust
There have been many proposals to tax nonprofits over the years, and while most have not succeeded, some have found their mark. This article is a proposal to the sector to do some self-reflection and dispassionately consider what lies beneath the ongoing tug-of-war. by Ruth McCambridge


Nonprofit Tax Policy—A Game of Three-Dimensional Chess
"The United States has built the largest nonprofit sector in the world, due in part to the fact that federal and state governments have offered favorable tax treatment and charitable giving incentives for a full century," writes Tim Delaney—and the "complex battles over whether these tax laws still make sense in the same way will surely be with us for the next century." With this reality in mind, Delaney maps out how tax policy is made, in order to understand and stay on top of the developments. by Tim Delaney
---
Departments
You First: Leadership for a New World "Just Ask 'What?'"
"I had my first experience with leadership coaching about twenty years ago, when my then-chair of the board suggested that I needed a coach, and should get one 'soon.' The old saying about polishing the rough edges had come up in a conversation over breakfast. I recall joking, 'Me? Rough edges?' She didn't smile. I got a coach and started polishing." Thus begins this disquisition on how to coach successfully. by Mark Light, MBA, PhD


Is Diversification of Revenue Good for Nonprofit Financial Health?
In this article, Mark Hager and ChiaKo Hung explore the popular truism that nonprofits should as a matter of course diversify their revenue streams as much as possible. They lay out the pros and cons, based on some different scenarios, to help practitioners determine when and in what contexts diversification may or may not be a good thing. by Mark A. Hager and ChiaKo Hung


Reimagining the Economy: The Social Justice Enterprise
Aaron Tanaka, director of the Center for Economic Democracy and cofounder of the Boston Ujima Project, describes a new approach for economic development centered on the concept of "social justice enterprise," which seeks to create a more just society by following "three pillars": stakeholder ownership and control; social impact and community benefit; and worker and community power. by Aaron Tanaka
---