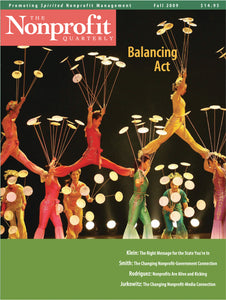 Fall 2009 – Digital Issue
If you're a member or have purchased this Digital Issue in the past,
Log in
to access it.
Regular price
$19.95
$0.00
Unit price
per
Balancing Act

Fall 2009: Volume 16, Issue 3
---
Features
Welcome


The Nonprofit Ethicist
A nonprofit questions whether the conduct of an organization with which it may merge is too suspect to move forward. by Woods Bowman


Lessons Learned—or Not
This new feature offers a heartbreaking lesson about understanding the sensitive cultural touch points in organizations. by Ruth McCambridge


Mission, Message, and Damage Control
When things go awry, here is a guide to crafting messages to stakeholders. by Kim Klein


Is Bigger Better? The Case for Small Nonprofits
A rich case statement for the community building value of small nonprofits by Fran Barrett
Nonprofits in the Age of Obama, Part Three
Alive and Kicking: Nonprofits in Late 2009
How are nonprofits managing their resources in light of vastly changed economic circumstances? by Lissette Rodriguez


Advocacy in the Age of Obama
In this, the third installment of our series on nonprofit experiences during the Obama administration, we explore the successes and challenges of advocacy organizations. by Ruth McCambridge


Secret Code: The Message to Nonprofits in the Federal Budget
The language of the federal budget indicates what the federal government wants from nonprofits. by Rick Cohen


The United Way: Missed and Missing Goals
Trend Alert: What does it mean that several United Ways have decided not to set cash goals for their campaigns? by the editors


Foundations Invest in For-Profits
Trend Alert: An increasing number of foundations have made large program related investments from their asset bases. But these charitable dollars can favor business ventures. by the editors
---
Departments
NPQ's 2009 Nonprofit Technology Directory
Government
Government and Nonprofits: Turning Points, Challenges, and Opportunities
The Obama administration has signaled a newfound commitment to the nonprofit sector, but history's lessons may indicate some warning signs. by Steven Rathgeb Smith
Journalism
Nonprofits and Journalism: An interview with Mark Jurkowitz
Will journalism eventually be driven from the business world and into a nonprofit setting? by the editors
Mergers
Mergers in the Wake of Financial Crisis
Is the knee-jerk clarion call for less nonprofits and more mergers increasing, and how grounded is the urge to force a merge? by the editors


Collaboration or Competition in the National Nonprofit Infrastructure?
To what degree do national nonprofit infrastructure groups set a good collaborative example to the nonprofit sector? by the editors
Leadership Transition
A Table for Two: Founders and Successors in the Same Shop?
Counter to popular opinion, some nonprofits benefit from a founder's continued presence even after an executive transition has occurred. by Mark Leach
The Take-Away
A summary of the articles in this issue.
Conflict

Dr. Conflict
An executive director struggles with a ghost. by Mark Light

Satire
Does the End Justify the Middleman?
Will Project Disintermediation simply repeat the sins of the past as it attempts to cut out nonprofit middlemen? by Phil Anthrop
---